Memorbrandum 2012
Dear world, I have a confession to make:
I love brands.

↳ Microsoft reveals a brand new logo fully immersed in its "Metro" design
I love how "the name, term, design, symbol, or any other feature that identifies one seller's goods or services as distinct from other sellers" (ex: Wikipedia for sure). I've learned to appreciate the fine details that build a cohesive brand, an enduring brand, and innovative cultural contender vying for our time and resources in this expanding global marketplace we live in. I enjoy understanding the process these brands took to be, towards success or ultimate failure. Analyzing to the point where design blends into strategy or to the point where the seller becomes obsolete and only the service remains.
↳ Just some larger, some out-dated brand logos that you might recognize
For so long, I've been ashamed to admit this. Because when you look at me, you don't think of me as a brand-lover. I don't walk around in Chanel and wave around my Gucci rag. But I do love flashing out explorations into swiss type, simple color accents, and grid-locked compositions last-minute onto big posters and digital mock-ups. I also like to waste time dancing around with other people—non-design friends, opinionated clients, ignorant and impressionable new users. 
You would think branding was an easy job. So you're working hard in studio one day completing a deadline for your Graphic Design degree when an accounting professor sees your work and then asks you to do some job for him. One pointy, rounded checkmark later and you got yourself $35 for your services! You wish it was just that.
↳ From "Brandiose" to "husbrandry": beware the many traps of branding.
Earlier today, I came across this lovely gem above, but I also discovered Microsoft's new Logo on Brand New. The consensus from comments below this post to the ones from my Facebook wall is that it's a good move. And I agree that it's a step up from the much-older than Armin's article seems to suggest "big-company-forward-thinking-with-a-quirk" black-and-white bold thing with the random chip cut into it logo from 1989.

However, I don't really love it.
Like many other human beings, I have inanely-personal and irrational reasons why I like something. Anything from the fact that a character had my name (ie: 3 out 5 star movie Fairy Tale) to fond childhood memories (ie. Kit kat bars are why I hate the Nestle brand and love Hershey to this day) can turn a something into a favorite for me. But for me a brand's visual mark alone is deemed as great as how memorable it is.
And for me, the Microsoft logo from circa 1999 with the lowercase case letters and gradient-tastic logo is still the best in terms of that. I still remember when I first turned on a computer with my dad and it was a Windows PC. I turned on that box and stared mesmerized as the colors of "flag" slowly materialized and then proceeded to twist into shape until the pixels audibly shimmered its finale. I remembered how these pure RGB gradients showcased the highest graphical display capacities of personal computers at the time. Microsoft easily carried this style consistently to their various Office icons while IE and Netscape mimicked their visual languages with slight variation. 
The redesigned Microsoft logo is, at best, a distilled version of that older logo. It's clean and simple, but Microsoft will have to do better than finally look modern-like-every-teal-highway-sign-in-Switzerland to contend with the likes of Apple.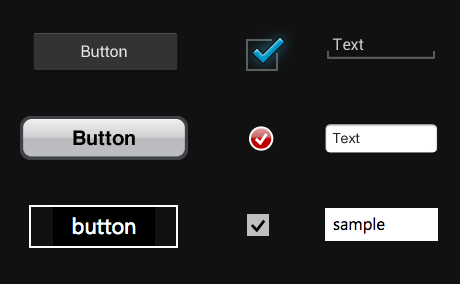 ↳ Top to Bottom: Android, iOs, and Microsoft's "Metro" Style UI Elements
Most people think Apple is the quintessential example of pure simplicity in design. Perhaps it was in the beginning, but Apple now is far from that sterile ideal. If you're using a Mac right now, just by pulling up your dock below you can see that the icons are fairly dimensional with layers of shadow, inner glow, and outline effects throughout to emphasize every line, curve, and edge—especially that familiar crisp highlight on top that makes everything look like it's been put under the most-neutral-colored fluorescent spot light.
It's on the iTunes icon and on almost all your iPhone/iPad apps. It's part of Apple's unique and very iconic look that EVERYONE has either blatantly ripped off or consciously/subconsciously drawn inspiration from. Just go and Explore the Highlights of Dribbble to find at least one example of some super-rendered, oh-god-too-many-details-to-see-at-even-150-% icons of some sort that designers spend eye-sight-killing days if not weeks to make. Or tap away to Pinterest to look closer at the stuff AROUND the pretty pictures of pretty people and things to notice the decidedly-soft, slightly-pinkish lighting on elements cut-out and pressed into a never-ending sheet of homemade paper UI.

This is not to say that the design from Dribbble, of Pinterest, and ultimately Apple aren't examples of good design. They adhere rather closely to basic understandings of white space, contrast, and more which make them readable to even the most newbie tech-user. And the rest of the questionable fluff creates the overall uniquely-recognizable style Apple doesn't even need to patent (especially the skeumorphism).
Microsoft shouldn't copy Apple. But it will have to do more to actually inspire me and the world to make this brand more than simply "fine." Something… simply memorable.
And there is potential. Potential to become a disjointed mess like Verizon (Don't click right away. Close your eyes first and try to imagine what Verizon's logo looks like. It's probably a lower-case sans-serif, leaning slightly to the right. But was it bold? Or thin? What color was it again? And how about those accented swooshes going every which way? Now click to reveal the true horror.)

↳ 4 yrs ago, Rory MacDonald commented: Microsoft → Zombie Brand?
There is also potential to be a really successful and universal design that surprises its users. As simple as clearer transitions from flat to dimensional that brings its Office icons to life or perhaps through seamless translation of the simple-boxy look into a bento-box pc. And if you've been reading from the start, you know I believe there are plans and methods beyond the purely visual that can keep Microsoft from becoming a member of the brand-new-living-undead.
I look forward to finding out how this continues.